Risk Assurance Workshop is a comprehensive and practical two-day workshop, that introduces participants to the frameworks, principles, and application of process risk management and assurance based on Value Added Auditing®.   Value Added Auditing (VAA) is a risk-based methodology for managing, planning, conducting, and reporting audits.  VAA is also a method for determining process effectiveness based on Government Accountability Office (GAO) Generally Accepted Government Auditing Standards (GAGAS) and Institute of Internal Auditors (IIA) Red Book standards..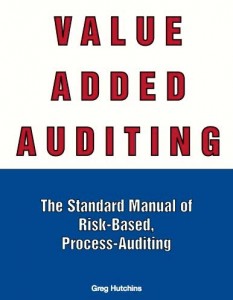 The workshop follows the audit and risk assurance principles and practices outlined in ISO 19011 and Yellow Book standards.  The reference book (380 pages) for Program/Project/ Risk Management is: Value Added Auditing.
US Department of Homeland Security (DHS) has certified Value Added Auditing under the Safety Act as a Critical Infrastructure Protection: Forensics, Assurance, Analytics® 'Qualified Anti-Terrorist Technology.' Each workshop participant receives the 400-page, step-by-step,  Value Added Auditing manual.
Risk Assurance (Value Added Auditing) follows a 1. Risk based approach; 2. Is compliant and harmonized to critical federal and state statutes; and 3. Can be used to offer a professional opinion and/or attestation.
Quality + Engineering risk management experts will introduce participants to critical risk management regulations (ISO, NIST, DOE, FDA, FAA, etc.) and employment opportunities that are arising in many professions.
In this workshop, Q+E will present its risk based methodology for conducting supplier risk audits.  Q+E risk based methodology, Value Added Auditing(R) has been approved by the US Department of Homeland Security.  More information on the Value Added Auditing can be found at:
Methodology:
Value Added Auditing(R) workshop
Articles:
Value Added Auditing article
Workshop Objectives
The objective of this workshop is to provide an understanding of the specific process risk management frameworks that can be used to evaluate critical infrastructure, such as cyber security, power grid, and SCADA systems.  The workshop provides participants with principles, techniques and tools that will help them to address and mitigate process risks.
Upon completion, participants will be able to lead and/or actively participate in teams to audit/evaluate enterprise, programmatic, process, transactional, and product risks.  Participants will learn various risk management and process management frameworks, processes, techniques, and tools.  Participants will learn how to audit for risk and understand where attestation and opinions must meet today's higher threshold of due diligence and assurance.  More often, federal, state, and commercial clients want this level of due diligence of operational, IT, and security assessments.
Workshop Format and Methodology
The workshop emphasizes process risk management and risk assurance.  The workshop is delivered though lectures, class discussions, individual and group case studies, and exercises.  The topics to be covered include following a well-accepted methodology of process auditing including planning, fieldwork, and reporting.  The workshop will help participants to understand and to develop process risk management, forensics, analytical, and assurance skills that they can apply on real-life projects.
What are the major benefits of Risk Assurance Workshop (Value Added Auditing)?  Risk Assurance Workshop (Value Added Auditing) provides the following benefits: 1. Complies with many federal/state assurance and auditing statutes and standards; 2. Can be used for an in-depth forensics analysis; 3. Follows a risk based and process approach; 4. Can be used for a high level of operational assurance and investigation if required.  5. Can be used for homeland security and other high level 'due care and 'due proficiency assessments.
Workshop Time Frame
The workshop is designed to be delivered in two days. The first day covers general planning and organizing risk audits and assessments.  The second day covers risk controls, fieldwork and reporting modules for forensics and assurance.
Who Should Attend
ISO is developing new standards, such as ISO 28000 (supply chain security), ISO 27000 (information security) and many other families of risk based standards.  ANSI, NIST, and ASTM are similarly developing risk-based standards.  Engineering, quality, supply management and operational professionals need to understand how to conduct risk assessments if they want to expand their career opportunities.
Risk Assurance Tools
Participants will take home a process risk management toolbox. The toolbox is a collection of process checklists and tools.  Tools include: process plans, heat maps, specific checklists, scope of work templates, process risk templates, fleld work templates, and reporting procedures.  This toolbox will be used extensively during the workshop to give participants sufficient practice during the workshop.  As an additional bonus value, each participant obtains the 400-page Value Added Auditing book, a $79.00 retail value.
Learning Objectives
Learn how to identify risk and determine when to use a risk based, process approach to conduct an audit.
Learn how to determine which publicly held companies, Federal agencies, and States are requiring risk- based, operational process assessments.
Learn how to conduct risk-based audits that comply with federal and state requirements.
Use GAO Yellow Book and IIA Red Book standards to develop internal controls to manage risks.
Apply a step-by-step approach to plan a risk-based audit.
Learn how-to conduct a successful risk based audit.
Report audit findings and if required issue an opinion.
Workshop Outline
Value Added Auditing and Risk Assurance Fundamentals
Today's Competitive Marketplace
Governance and Auditing
Value Added Auditing 101
Enterprise Risk Management 101
Process Management 101
Exercise: Discussion on the history and development of process assessments and operational auditing
Casestudy: Differences between Yellow Book and Red Book auditing
Casestudy: Differences between ISO and risk auditing
Managing Value Added Auditing
Managing the Value Added Audit
Exercise: Examples of Red Book and Yellow Book auditing and their differences
Casestudy: Critical Infrastructure Protection audits and assessments
Casestudy: Discuss Capability Maturity Model articles for conducting audits
Planning the Value Added Audit
Step 1: Understand audit and business objectives
Step 2: Notify/visit auditee
Step 3: Understand auditee's system, process and product documentation
Step 4: Develop audit plan
Step 5: Develop audit survey
Exercise: Developing a scope of work and audit plan
Casestudy: NERC CIP audits
Conducting the Value Added Audits
Step 1: Assess organizational maturity
Step 2: Assess process capabilities
Step 3: Assess system/process risks
Step 4: Evaluate control effectiveness
Step 5: Assess evidence
Step 6: Issue opinion
Step 7: Conduct exit meeting
Exercise: 'Plan the work' and 'Work the plan'
Exercise: Implement plan for risk-control evaluations
Reporting Value Added Audit Results
Step 1: Communicate audit results
Step 2: Decide audit report format
Step 3: Correct – Prevent – Predict – Preempt
Step 4: Maintain audit file
Exercise: Report on the audit and results of fieldwork
Casestudy: Attestation/Assurance/Opinions; Providing professional assurance
Future of ISO Risk Standards and Operational Auditing
ISO 28000
ISO 27000
ISO 14000
Discuss how to risk assess various standard criteria
Future of operational auditing
Your Next Steps
Develop plan for implementing process risk managemen
Exercise: Discuss and evaluate project risk plans