WHO IS THE AUTHOR?

Greg Hutchins is the risk evangelist who coined the expression Future of Quality: Risk® and is the developer of Certified Enterprise Risk Manager® certificate.

WHY PURCHASE THIS BOOK?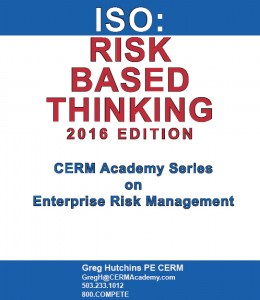 ISO Risk Based Thinking is the first book to address risk management in the new ISO families of standards.   ISO Risk Based Thinking will be available February 15, 2015.  Pre-orders are currently accepted.  Book length is 320 pages (8″ x 10″ trim).  Cost is $89.00 USD + S/H. To order: GregH@CERMAcademy.com
ISO incorporated Risk Based Thinking into ISO 9001:2015 and its management system standards.  Learn what Risk Based Thinking really means and, most importantly understand what you need to do to adopt risk based thinking.  Everyone who has adopted ISO management systems should read this book to understand and implement Risk Based Thinking.
TO ORDER:
ISO Risk Based Thinking cost is $89.00 plus S/H $6.00 in US.  Offshore shipping costs are handled individually. Contact: GregH@europa.com or 503.233.1012 in US for order information.
ISO Risk Based Thinking offers you the following:
Explains the rationale of ISO's Risk Based Thinking into management system standards.
Explains key risk concepts such as VUCA, risk management, risk context, etc.
Presents insider tips and tools known to standards developers and high-priced management system consultants.
Explains risk management concepts such as Risk Based Thinking (RBT).
Lists critical risk, process, effectiveness, and RBT questions that your QMS consultant and CB should be able to answer.
Presents Risk Based Thinking based on ISO 31000 and COSO standards.
BONUS MATERIALS/RESOURCES
Access to hundreds of risk and quality articles.
Get a discount for Certified Enterprise Risk Manager® (CERM) certificate.
Get Lesson Learned at the end of key question
Get slide decks with specific risk information on YouTube.
Get a free course materials on using FMEA's in ISO 9001:2015.
ISO RISK BASED THINKING CHAPTERS
Introduction
New Management Paradigms
RBT Context, Frameworks, & Definitions
ISO 9001:2015 Standard
ISO 31000 Guideline
COSO ERM Guideline
Business Case For Risk
Executive Management Responsibilities
Risk Based Thinking Journey
New Quality Organization
Certification Bodies
Risk Based Auditing
Risk Assessment Tools
Risk Management and Control
Future of Quality
BACKGROUND OF AUTHOR?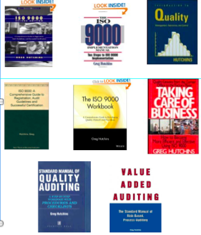 Greg Hutchins Is the principal engineer with Quality + Engineering.  He has written a number of best selling ISO 9001, supply management, and quality books as shown on the right.
I have been in quality for more than 30 years.  I go back to the Mil Q (predecessor of ISO 9001) and Mil I (inspection) days of quality.  I have been involved with Enterprise Risk Management (ERM) for a dozen years and product risk (FMEA) for almost 20 years.  A little more background may also help:
Principal Engineer with Quality + Engineering, a Critical Infrastructure Protection: Forensics, Assurance, Analytics® engineering firm.
Risk engineer and consultant for global companies.
Developer of Future of Quality: Risk slide deck that went viral on Linkedin.
9001, ISO 14001, and ISO 27001 management systems consultant.
Lead instructor and consultant for one of the first North American certification bodies.
Author of best selling ISO 9001 (translated into more than 8 languages).
Author of Value Added Auditing™ – the first risk-based, quality-auditing and assurance book.
Author of multiple risk-based, auditing books, which have been approved by national authorities.
Author of 100′s of quality and risk articles for ASQ, PMI, IEEE, IIE, QD, and many other journals.
Developer of Certified Enterprise Risk Manager® and other risk certificates.
Founder of CERM Risk Insights™ emagazine with a circulation that is doubling each year.